CATALOGUE | 40YEARSVIDEOART.DE – PART 1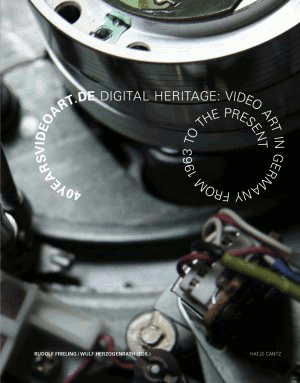 The publication offers a comprehensive overview on historical as well as current tendencies in Video Art, including the early beginnings in film and television and featuring fifty-nine individual art works produced in Germany. The catalogue is accompanied by a DVD-ROM with excerpts of all works and additional material related to the context of the artists' work. Texts by historians, curators, and philosophers reflect on historical and theoretical reviews of current strategies involving moving images, also including issues of the presentation, conservation, and restoration of Video Art.
Essays by Dieter Daniels, Rudolf Frieling, Boris Groys, Wulf Herzogenrath, Hans Dieter Huber, Sabine Maria Schmidt, and texts on individual works by Rosanne Altstatt, Georg Elben, Christiane Fricke, Rudolf Frieling, Sabine Himmelsbach, Barbara John, Katrin Kaschadt, Doris Krystof, Matthias Mühling, Anja Osswald, Sabine Maria Schmidt, Tina Schulz, Jeanette Stoschek, Antonia Ulrich
»40YEARSVIDEOART.DE—PART 1 DIGITAL HERITAGE: VIDEO ART IN GERMANY FROM 1963 TO THE PRESENT«
EDS. RUDOLF FRIELING / WULF HERZOGENRATH
HATJE CANTZ VERLAG, 400 PP., CA 650 COLOR ILLUS., 19x24,5 CM, SOFTCOVER, WITH DVD-ROM, 35 € 2006, Englisch | ISBN: 3-7757-1718-8
If you are interested please contact: E-mail: sales@hatjecantz.de
DVD STUDY EDITION
A panorama of video art produced in Germany with more than 28 hours of historic as well as current works by 59 artists, distributed as a box of 12 DVD. The DVD study edition aims at furthering the perception and discussion of video art in academies, universities, schools etc. Due to copyright restrictions, the set can only be ordered by institutions from the fields of research and education for internal viewing. Any other use like public presentation, lending or selling is strictly prohibited.
The price is 174,00 € (incl. shipping) and shipping is handled by Verlegerdienst München GmbH & Co. KG. Payments in advance or by credit card only.
If you are interested please contact:
E-mail: order@40yearsvideoart.de
Fax: +49 711 4405-220